Advanced Search Engine Optimization (SEO) – Online Training Course
(All course fees are in 

USD

)
Course Description
SEO is perhaps the most challenging and rewarding marketing discipline. Combining data, analytics, content marketing, and proficiency with HTML and technical site optimization, SEO unlocks the potential of your marketing efforts. This SEO course covers all these key skills and how they coordinate to become an effective marketing strategy.
Offered in Partnership with
Simplilearn
Course Delivery
Online self-paced learning (35 hours)
Live virtual classroom training (16 hours)
Total online blended learning: 51 hours
Benefits
20+ real-life industry-based projects
Learn Google's popular tools like Keywords Trends and Search Console
Gain detailed insights on advanced web analytics
Get 360 degrees understanding of planning and marketing a website
Skills to be Learned
Search engine optimization
Content marketing
Web analytics
Keyword management and research
Website management and optimization
URL management
Award upon Successful Completion
Certificate of Achievement in Search Engine Optimisation from Simplilearn
Awarding Organisation
Simplilearn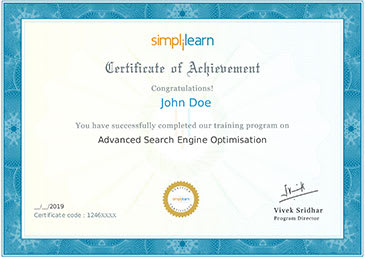 Learning Outcomes
By the end of this Advanced Search Engine Optimization (SEO) Training course, you will be able to :
Create interesting and compelling marketing content
Identify prospects and create an effective content marketing strategy
Create brand messaging and appropriate content guidelines
Learn how to find industry influencers and identify promotional opportunities
Learn content marketing strategies, tactics, and best practices to produce effective content
Learn how to develop appropriate content for each type of audience segment
Create best practices for content across media types, including social media, images etc.
Leverage data from various sources to conduct quantitative and qualitative research, and deliver actionable, data-informed business insights
Perform digital data analytics to derive important insights for all aspects of the customer lifecycle across digital channels
Understand the concepts of web analytics from ground zero to master analytics across digital channels
Gain in-depth knowledge of web analytics, social analytics, mobile analytics, and content analytics
Acquire an end-to-end understanding of how digital and data analytics impact the conversion funnel, customer retention and acquisition, CPA, LTV, and overall customer engagement
Learn how to use Google Analytics, Google Digital Studio, Klipfolio, and Tableau
Assessments
Course-end Quizzes
Simulation Test
5 Projects
Project 1 –  Keyword analysis and research
Using keyword research and effectiveness index, build information hierarchy of your webpage.
Project 2 – SEO structure planning
Certification CriteriBuild the SEO structure for your website based on the site architecture and overall information hierarchy.
Project 3 – Website audit documentation
Using Simple Audit Template, do a SWOT analysis on your website, and create prioritized actionable items.
Project 4 – Inbound link building
Identify new inbound link targets for your site and document the process required for determining those targets.
Project 5 – Marketing plan
Create a 360-degree marketing plan for your business including target audience, keywords, potential lead behavior flow, and actionable marketing campaign goals.
Course Completion Criteria
Complete 85% of the online self-paced learning (OSL) course
Attend all the sessions within one live virtual batch
Complete five projects
Complete one simulation test with a minimum score of 75%
Who Should Enrol
SEO training is beneficial for anyone who wants to become proficient in SEO best
practices, particularly: marketing managers, digital marketing professionals, content writers, marketing and sales professionals; management, engineering, business, and communications graduates; and entrepreneurs and business owners.
Prerequisites
There are no prerequisites for this online course.
Course Overview
1. Introduction to SEO
2. How Search Engines Work
3. Keyword Research
4. On Page Optimisation
5. Website Management & Optimisation
6. Off Page SEO
7. Planning a New Website
8. Market Your Optimised Website
9. Analytics & Measurement
10. What is Next Learning Path
SEO Course Advisor

Matt Bailey
Expert Internet Marketer, President of SiteLogic, Author
Matt Bailey is the founder and president of SiteLogic, and the author of Internet Marketing: An Hour A Day. Matt also serves on the Advisory Board for Incisive Media's Search Engine Strategies Conferences, and is one of the conference's highest-rated speakers.
Access Period of Course
1 Year from date of enrolment
Customer Reviews
Marko Stefan
Marketing Manager at Sana delikatese d.o.o.
Simplilearn's Advanced SEO course is a good springboard for the traditional marketers.
Macie Rojas
Simple, clean and perfect courseware!
Aleah Rodgers
This course will make you learn everything you need to know about search engine optimization, nothing more and nothing less. Highly recommended.
Esmeralda Mclaughlin
This was a great course for someone like me, who understands the importance of SEO but don't know how to implement it. I now have a much better understanding. Thanks!
Maria Terentyeva
Менеджер по стратегиям и аналитике at Креативное digital-агентство DMCA
Thanks! I see now how to improve my projects and get a better result.
Course Features
Students

0 student

Max Students

1000

Duration

51 hour

Skill level

all

Language

English

Re-take course

1000
Lesson 1 - Introduction to SEO

Lesson 2 - How Search Engines Work

Lesson 3 - Keyword Research

Lesson 4 - On Page Optimisation

Lesson 5 - Website Management & Optimisation

Lesson 7 - Planning a New Website

Lesson 8 - Market Your Optimised Website

Lesson 9 - Analytics & Measurement

Lesson 10 - What is Next Learning Path