Agile Scrum Foundation Certification Online Training
(All online course fees are in

USD

)
Course Description
The Agile Scrum Foundation certification training is a certification that validates our knowledge in Agile methodologies and Scrum practices. This course will help you become Scrum-qualified, enhancing your ability to develop and deliver high-quality products and apply Scrum concepts on the job.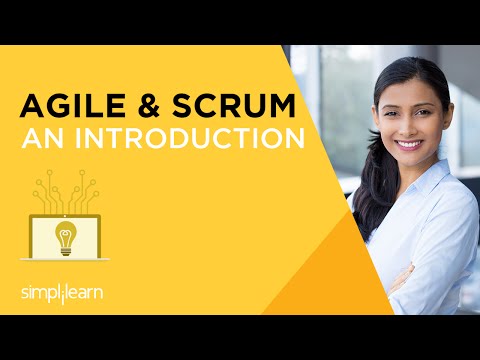 Offered in Partnership with
Simplilearn
Course Delivery
Online self-paced learning (88 hours)
Benefits
8 chapter-end quizzes
6 PDUs offered
2 agile and scrum interactive scenarios
Access to self-paced learning
Courseware approved by EXIN Agile Scrum
Simulation test papers for self-assessment
Skills to be Learned
Describe Agile methodologies
Discuss Scrum roles
Discuss Scrum artifacts
Plan Scrum projects
Execute Scrum projects
Advanced Scrum topics
Agile philosophy
Apply Scrum
Award upon Successful Completion
Agile Scrum Foundation "Certificate of Achievement" from Simplilearn
Awarding Organisation
Simplilearn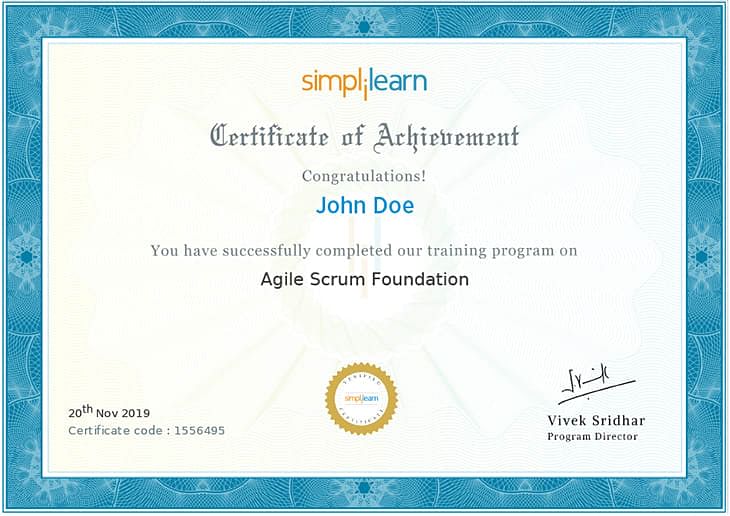 Learning Outcomes
Understand basic scrum topics and agile methodology and philosophy
Master professional knowledge of agile methodologies and scrum practice
Execute projects more effectively by dividing them into incremental portions
Deliver products in functional stages, improve collaborations and create a flexible process where changes are less impactful on project quality, cost, and timing
Assessments
Course-end quizzes
Certification Criteria
Complete the online self-learning course
Complete the course-end assessment with a minimum 80% score
Who Should Enrol
Developers and architects
Project managers
Scrum masters
Product owners
Business analysts
Senior managers and process coaches
Professionals already proficient in any software development technology
Prerequisites
There are no eligibility criteria for taking the agile certification exam, but the course is primarily targeted at Scrum Masters and Agile enthusiasts who are responsible for the successful use or roll-out of Agile and Scrum in a project or enterprise.
Course Overview
Lesson 1 – Agile Scrum Concepts

Lesson 2 – Roles and Rituals

Lesson 3 – Scrum Practices

Lesson 4 – Scrum Planning

Lesson 5 – Scrum Estimations

Lesson 6 – Scrum Monitoring

Lesson 7 – Advanced Scrum Concepts

Lesson 8 – Scrum Overview

Course Advisor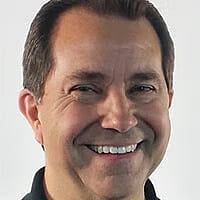 Jeff Allen
Project Management and Agile Expert, Consultant, Author
Jeff Allen is a highly regarded project management and Agile expert with more than 15 years of experience at large companies like Compaq and HP. As an Agile Coach, he has mentored over 5000 professionals globally.
Accessible Period of Course
1 Year from date of enrolment
Customer Reviews
Tatiana Stepanov
Sr. Business Analyst @A+E Networks
This is a very good, accurately structured course. The pace is just right. The trainer is a rock star!!!
Craig Mincic
Database Applications/Programmer at Northrop Grumman IT Health Professionals
The trainer tailored the material to meet the needs of students with varying skills and abilities. I found that Simplilearn has successful programs to accommodate people who are just starting out and upskill those looking to get ahead.
Michael Rais
Lead Technologist, Architect, VP of Software Development at IPsoft
Very informative. Exactly what I paid for even though the cert is not a role rating in itself. I got a broader project perspective from this course, as variations on agile were discussed, and best practices that I recognized from the field. I recommend the course.
Joel R. Sosa-Rivera
Software Analyst
Course was informative, very well formatted and organized, lots of examples were provided. Pretty much all concepts were cleared. Overall pretty good training.
Laine
Technical Writer at Pethealth
Very easy to follow and informative.
Shailesh Thanekar
Senior Manager
Content is very well designed and it is very helpful even for new learners. Thank You.
Genevieve Gertz
CMO @C3 International, Inc.
I have already recommended your program to a couple of friends! Very Pleased!!!
Matt Mazarin
Web Design Administrator at LAC Group
This course was very helpful. Troy did a great job of learning about his audience and tailoring the course appropriately.
Mandla Mahlangu
Developer at Integritron Integrated Solutions
I am now able to challenge and correct my team at Integritron Integrated Solutions when they fail to follow Scrum principles. Simplilearn's ASF program included hands-on simulations that prepared me for the real world.
Terry L. Hoiness Jr
Training was excellent – This seemed to cover more aspects than my previous SCRUM Master training had.  The instructor was well spoken, and the subject matter was clear and concise.
Ken Wohlrob
My overall experience with the training was good, the trainer seemed to have good knowledge on the subject and was able to present it well. The trainer made the live virtual classroom training very comfortable. And the content was very useful and it surely is a lot of learning in one day.
Manjulatha Kamalraj
Was very useful and served as a refresher.
Course Features
Students

0 student

Max Students

1000

Duration

88 hour

Skill level

all

Language

English

Re-take course

1000