Agile Scrum Master (ASM®) – Online Training
(All online course fees are in

USD

)
Course Description
This Scrum Master Online Training introduces the best practices of Agile and the nuances of the Scrum methodology. Master the Agile Scrum project management approach and enhance your ability to develop and deliver quality products to customers. Use this popular methodology to maximize business value while mitigating potential risks.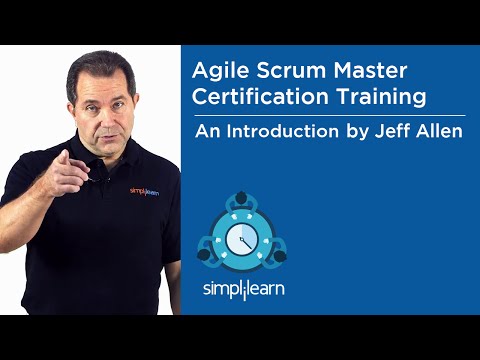 Offered in Partnership with
Simplilearn
Course Delivery
Online self-paced learning (20 hours)
Virtual classroom training (16 hours)
Total blended online learning: 36 hours
Benefits
36 hours of blended learning (20 hours online self-paced learning & 16 hours virtual classes)
2 live Scrum games and 7 scenario-based Scrum games
1 live project and case study
19 PDUs in self-paced learning and 24 PDUs in an online classroom
This Scrum Master Certification enables you to deliver products in functional stages, improve collaborations, and create a flexible process where changes are less impactful on project quality, cost, and timing.
*Note:
The course fee EXCLUDE the Agile Scrum Master (ASM®) professional exam fee. You have sole responsibilities to pay for exam fee, & enrol directly.
Skills to be Learned
Agile Scrum methodologies
Agile Scrum applications
Daily Scrum synchronization
Sprint planning and review
Producing Scrum artifacts
Implementing distributed Scrum
JIRA project management
Agile Scrum best practices
Award upon Successful Completion
Agile Scrum Master "Certificate of Achievement" issued by Simplilearn
Awarding Organisation
Simplilearn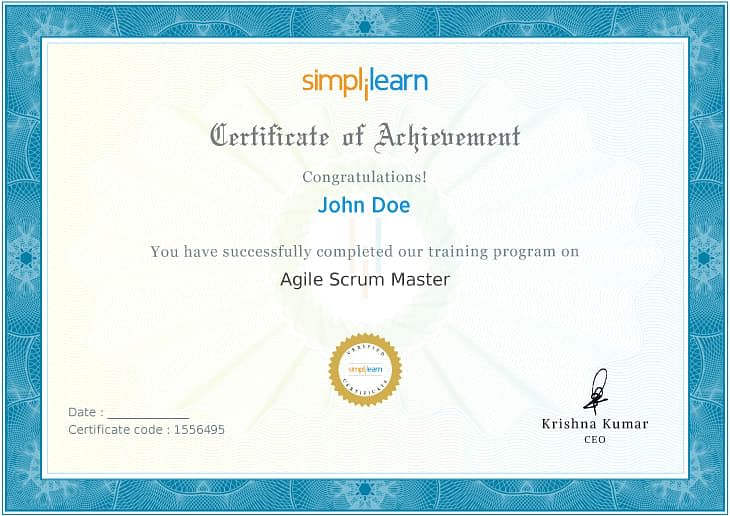 Certification Alignment
Simplilearn is a registered Education Provider for Agile Scrum Master (ASM®)
Register with EXIN to purchase the exam voucher** and schedule your web proctored exam online. Upon successfully passing the exam, you will be awarded the Agile Scrum Master certification from EXIN.
** Note:
Exam voucher for the Agile Scrum Master certification of EXIN is included in this course, but you have to book your exam directly with EXIN within 6 months of purchase of this online course.
For each exam voucher, you have a maximum of one attempt to pass the Agile Scrum Master Certification exam.
Please also note if you do not want to take the exam, refund for the exam voucher would NOT be possible.
Please click the here for information regarding the exam booking process.
You can try this free Agile and Scrum practice test to understand the type of tests that are part of the course curriculum.
Learning Outcomes
Become proficient in Scrum terminologies and their applications
Facilitate daily scrums, user stories, sprint planning, and sprint reviews
Produce different Scrum artifacts, including product backlog, sprint backlog, finished deliverables, and the definition of "done"
Implement a distributed Scrum of teams spread across vast geographies
Grow into a Scrum Master role within any organization implementing Scrum
Setup and handle projects on a JIRA cloud site
Pass the EXIN Agile Scrum Master exam on your first attempt
Apply best practices crucial for getting the maximum value from Scrum methodology
Assessments
Course-end Quizzes
Simulation Test
Course-end Projects
Project 1: Smart Weather BigBucks Cafe
BigBucks Café wants you to use weather data to regulate and manage its daily operations. As a ScrumMaster, you must resolve and create a prioritized product backlog for the Scrum team.
Project 2: Smart Weather LeViva
LeViva wants to launch an app using weather forecasts to serve its customers. As a Scrum Master, you need to resolve and create a prioritized product backlog for the Scrum team.
Certification Criteria for this Online Course
Complete at least 85 percent of the course or attend one complete batch
Complete one project and one simulation test with a minimum score of 65 percent
Who Should Enrol
Team leaders
Project managers
Members of Scrum teams such as developers, Scrum Masters, and product owners
Managers of Scrum teams
Teams transitioning to Scrum
Professionals intending to pursue the Scrum Master certification
Prerequisites
There are no prerequisites for this Scrum Master Certification Training Course. It is suited for any professional aspiring for a management role.
Course Overview
Lesson 0 – Course Overview

Lesson 1 – Agile Way of Thinking

Lesson 2 – Other Agile Frameworks

Lesson 3 – Scrum Events and Artifacts

Lesson 4 – Scrum Roles

Lesson 5 – Agile Estimating, Planning, Monitoring, and Control

Lesson 6 – Agile on Complex Projects

Lesson 7 – Adopting Agile
Access Period of Course
1 year from date of enrolment
Customer Reviews
Preeta Naveen
Lead Business Analyst
The training was up to the mark. All I could say is the trainer was armed with excellent knowledge, detailed explanations, patiently answered questions ,and very good examples.
Jenna Ware, MBA
Sr. Business Process Consultant, AVP at Hancock Bank
Fantastic training! This was fun, interactive, and I learned!…The trainer keeps you on your toes and has a multitude of ways to keep you engaged and move ahead – the fastest 4.5 hours of my life ever! He provided real life, great examples, and practiced scrum in class!… from Videos and Polls, to Q&A, everything was so interactive and fun!
Dale Hollon
Senior Systems Engineer @Swire Oilfield Services
Very impressed with progress of the training, the content of the course material and the knowledge of instructor.
Great class, Great instructor, really explained the material well.
Lena May
Technical Project Consultant
I have enrolled in Agile Scrum Master certification from Simplilearn. The trainer was very knowledgeable. Their online learning portal is very easy to use. The customer support service was friendly.
Minara Begum
Software Quality Assurance Analyst at Mayo Clinic
I have enrolled in Agile Scrum Master course from SimpliLearn course. Their customer support service was extremely helpful. The course content, as well as the instructor, were very good. Overall learning experience met my expectations. I am sure that the certification will help me to get ahead in life.
Alphia Stephens
Engagement Manager at Moser Consulting
I have completed my course from Simplilearn. The course material was presented in such a way that it was easy to understand. We could also relate them to real world scenarios. The downloaded e-books helped me a lot since I was able to mark the content as and when I was going through them. Great class structure.
Shawnte Howard-Macon
Personal Manager at Lady Tay Management
Great session, the trainer was great and the training was interactive. Loved the examples which really brought the lessons to life. Keep it going!
Diann Meiller
Sr Engagement Consultant
I really appreciate the multiple formats that you offer with the online learning, downloads, and the WebEx interactive sessions. It's really helping me grasp the material more quickly. The trainer made sure we have the concepts down. He provided great pointers regarding the exam. I really appreciate his training style.
Ruchita Mahajan
The information was crisp and to the point. The learning has been beneficial as the importance was given to the vital aspects of Scrum terminologies and its practical application. I am confident in my new approach to Scrum implementation across geographies in my organization.
Melanie Sequeira
The topics were covered in detail and emphasis was given to the practical application of scrum at an organizational level. I now have an enhanced perspective and I am able to share my knowledge on Agile terminologies with confidence and ease.
Jennifer Obal
I cleared the exam in my first attempt and the certification in Scrum Master has helped me land several job interviews and I have cleared the interviews with confidence, portraying a deep sense of understanding in Agile Scrum Master. I am glad I took up this course.
Lorrenzo Campari
The course is detailed and informative. The aspects covered in the course were significant in terms of practical application. I have definitely created a strong foundation and I am able to apply the methodology at work.
Kevin Mrachek
My role in the new organization demands my expertise in facilitating daily scrums and after taking up this course I am able to execute the task with confidence and ease. I have gained a lot of knowledge in this area and I quite impressed with the depth of understanding I have gained through this course.
I am now able to efficiently track and manage my team spread across several geographies. I am comfortable with expediting the process of managing several teams and I am confident in implementing the agile scrum at my workplace.
Sandeep JC
Software Test Engineer experience in Manual, Salesforce and
Automation Testing.
Simplilearn is the best place to learn online from experienced and certified tutors. I have completed the Agile Scrum Master and Salesforce training through Simplilearn. They provided a user-friendly environment with world-class trainers and e-learning content. The SimpliTalk forum is great for resolving and questions.
Jithin Khurana
Senior Software Engineer at Gemalto
Simplilearn is a fantastic platform to learn new technologies while being employed. The course content is excellent. After getting certified, I was able to change my job role and grab a 30% salary hike.
Hariprasad Srinivas
Team Manager
Everything, the trainer, tools, and technology used, the pace and accessibility were really good.
Anup Acharya
Sr Product Specialist at Cognizant Technology Solutions
Simplilearn is a great place to learn new skills. I have completed my Agile Scrum Master certification from Simplilearn. The course content is good and very easy to understand. The certification helped me to get a job offer with a great hike. I highly recommend Simplilearn.
Course Features
Students

1 student

Max Students

1000

Duration

36 hour

Skill level

all

Language

English

Re-take course

1000