AWS Big Data Certification – Online Training Course
(All course fees are in

USD

)
Course Description
In this AWS Big Data Certification – Online Training Course, you will become familiar with the concepts of cloud computing and its deployment models. This course covers Amazon's AWS cloud platform, Kinesis Analytics, AWS big data storage, processing, analysis, visualization and security services, machine learning algorithms and much more.
Offered in partnership with
Simplilearn
Course Delivery
Online self-paced learning: 4.9 hours
Live virtual classroom training: 39 hours
Total online blended learning: 43 hours
Benefits
43 hours of online blended learning
Real-life industry-based projects
Dedicated mentoring session from our industry expert faculty members
Skills to be Learned
AWS Quicksight
Kinesis streams
AWS Lambda and Glue
s3 and DynamoDB
Redshift
Amazon RDS
Hive on EMR
HBase with EMR
AWS Aurora
Award upon Successful Completion
AWS Big Data Certification Training "Certificate of Achievement" from Simplilearn
Awarding Organisation
Simplilearn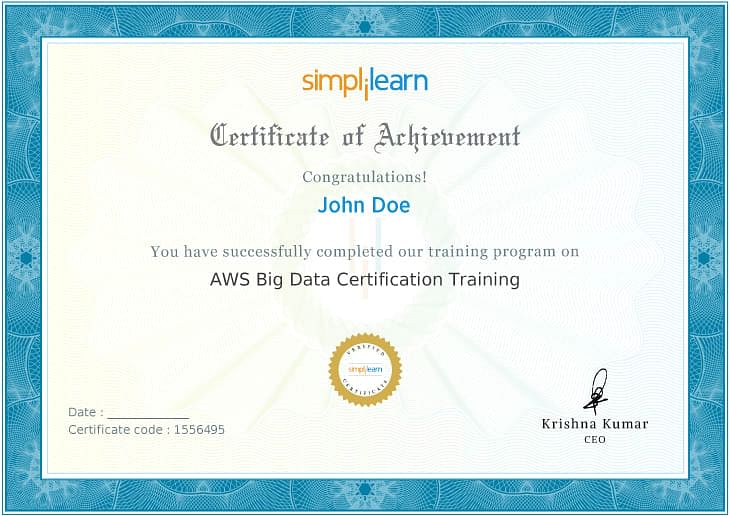 Learning Path
This online course would prepare you for AWS Certified Data Analytics – Specialty (DAS-C01) exam
Learning Outcomes
When you complete this AWS Big Data Certification – Online Training, you will be able to accomplish the following:
Understand how to use Amazon EMR for processing the data using Hadoop ecosystem tools
Understand how to use Amazon Kinesis for big data processing in real-time
Analyze and transform big data using Kinesis Streams
Visualize data and perform queries using Amazon QuickSight
Assessments
Course-end Assessment
Completion of the online course
Attendance of one full batch of live virtual classes
A score of at least 80% on the course-end assessment
Successful evaluation of the course-end project
Projects
Project  – Real Time Analytics on Streaming Data

Use the big data stack for data engineering to analyze a stream of data coming from IoT temperature sensor devices in real time.

Project –

Truegate S3 Replication Big Data Assignment
Who Should Enrol
Data scientists
Data engineers
Solutions architects
Data analysts
Prerequisites
Participants in this AWS Big Data certification course should have basic knowledge of AWS technical essentials and a fair understanding of big data and Hadoop concepts.
Course Overview
Lesson 1 – Big Data on AWS Certification Course Overview
Lesson 2 – Big Data on AWS Introduction
Lesson 3 – AWS Big Data Collection Services
Lesson 4 – AWS Big Data Storage Services
Lesson 5 – AWS Big Data Processing Services
Lesson 6 – Analysis
Lesson 7 – Visualization
Lesson 8 – Security
Access Period of Course
1 year from date of enrolment
Customer Reviews
Ajinkya Gavi
Associate at Cognizant
I joined Simplilearn to explore more about the upcoming Technology. Just 1 month of course along with sufficient practice landed me a job in a Top IT MNC. I never thought an experienced person can start as fresher in Bigdata, but Simplilearn made it happen. Thank you Simplilearn.
Angiras Modak
IIM Bangalore, Executive Management
Simplilearn's Big Data course prepared me with the skills to get ahead in my career. The course helped me to enhance my career from Senior Associate to Program Operations Manager at Sapient within 1 year of completing the course.
Md Azhar Hussain
This platform has enhanced my knowledge of big data and provided me the opportunity to work with experienced industry professionals. I appreciate the tutor's in-depth knowledge and, the help and support provided by Simplilearn. After the certification, I was able to grab a role change.
Course Features
Students

0 student

Max Students

1000

Duration

43 hour

Skill level

all

Language

English

Re-take course

1000