AWS Solutions Architect – Online Training
(All course fees are in

USD

)
Course Description
The AWS Solutions Architect – Online Training will enable you to design, plan and scale AWS implementations utilizing over 70 cloud computing services. The AWS course is aligned with the latest AWS exam featuring Amazon designated best practices.
Offered in Partnership with
Simplilearn
Course Delivery
Total 60+ hours of online applied learning (i.e. online self-paced learning & online virtual classroom training)
Benefits
16 live demos of AWS services
3 simulation exams (60 questions each)
3 real-time industry projects with integrated labs
Our partner, Simplilearn, is an AWS select technology partner
Skills to be Learned
AWS solution planning
AWS architecture best practice
Designing resilient AWS implementations
AWS cost estimation
AWS implementation optimization
AWS data IO
Award upon Successful Completion
AWS Solutions Architect  "Certificate of Achievement" from Simplilearn
Awarding Organisation
Simplilearn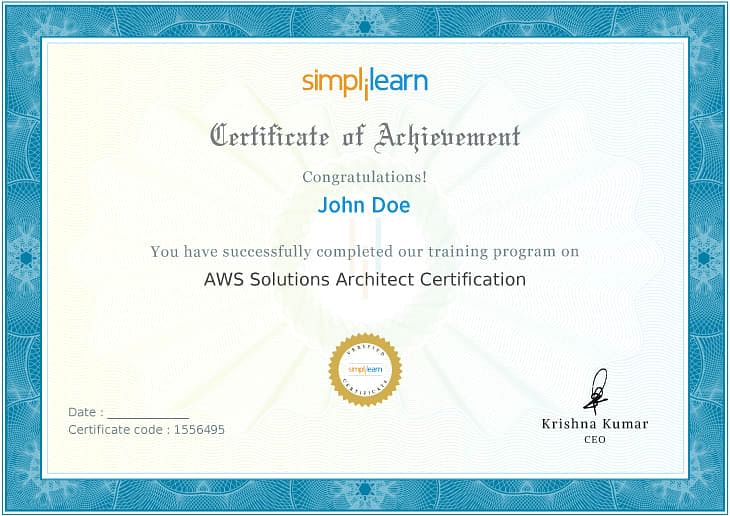 Learning Path
This online course is aligned with the AWS Solutions Architect certification professional exam.
To become a certified AWS Solutions Architect, you must meet the following requirements:
The AWS Solutions Architect Associate exam is 80 minutes and features multiple-choice questions
AWS Certification exams are administered at Kryterion testing centers in more than 750 locations worldwide; register to secure your exam appointment
Note:
This course does NOT cover the AWS Solutions Architect certification professional exam. You have sole responsibility to enrol the exam directly.
Learning Outcomes
By the end of this AWS training you will be able to:
Formulate solution plans and provide guidance on AWS architecture best practice
Design and deploy scalable, highly available, and fault-tolerant systems on AWS
Identify the lift and shift of existing on-premises applications to AWS
Decipher the ingress and egress of data to and from AWS
Select the appropriate AWS service based on data, compute, database, or security
requirements
Estimate AWS costs and identify cost control mechanisms
Assessments
Quiz
Projects
Project 1: Custom VPC Creation
Project 2: Load balancer Configuration
Create a custom VPC with public and private subnets on two availability zones, and launch instances into each subnet
Launch two web servers, and configure a load balancer and auto-scaling
Project 3: RD Gateway Configuration
Configure an RD Gateway on a VPC with a public and private subnet
Course Completion Criteria
Online Self-Learning
Complete the online course
Complete one simulation test with a minimum score of 80%
Online Virtual Classes
Attend one complete batch of online virtual classes
Complete one simulation test with a minimum score of 80%
Who Should Enrol
IS/IT auditors/consultants
IT compliance managers
Chief Compliance Officers
Chief Risk Officers
Chief Privacy Officers
Security heads/directors
Security managers/architects
Prerequisites
There are no prerequisites for this AWS training course. However, prior experience in working with AWS or another cloud computing platform is recommended.
Course Overview
Lesson 1 – Introduction
Lesson 2 – Getting Started With AWS
Lesson 3 – Identity and Access Management
Lesson 4 – S3
Lesson 5 – EC2 and EBS
Lesson 6 – ELB and Autoscaling
Lesson 7 – Cloudwatch
Lesson 8 – VPC
Lesson 9 – Databases
Lesson 10 – Route 53
Lesson 11 – Additional Key Services
Lesson 12 – SAA C02 Latest Services
Course Advisor
Marc Weaver
AWS Solutions Architect & DB Expert, Author and Founder – Databasable
Marc is an AWS solutions architect and Database Expert. He has over 15+ years of experience working with investments banks across the globe. He has authored courses on AWS solutions architecture and Database migration.
Access Period of Course
1 year from date of enrolment
Customer Reviews
B M Abhishek
Technical Support Engineer
My trainer was very patient and made sure to address all our doubts. The journey with Simplilearn has indeed been a great experience because of the way the trainers explained the topics.
Ranjith Jayakar
ACS India Pvt ltd
The sessions taken by our instructor Sonal were great. I was really impressed with the training. I was able to learn a lot of new things. Thanks a lot, Simplilearn!
Niranjan Damaraju
Delivery Director at Cognizant
I recently took the AWS Solution Architect Associate course from Simplilearn. I am very impressed with the quality of the course content and its structure. I am very keen to recommend Simplilearn for developing my IT skills. This course is great for both teams and managers.
Vinayak Kumashi
BizTalk Lead at eTeam
I have attended AWS Solution Architect program from Simplilearn. The concepts were well explained and the lab sessions were useful. All questions were answered satisfactorily. I would strongly recommend this program to anyone who wishes to get to the depths of AWS. Thanks.
Course Features
Students

0 student

Max Students

1000

Duration

60 hour

Skill level

all

Language

English

Re-take course

1000
Lesson 2 - Getting Started With AWS

Lesson 3 - Identtiy and Access Management

Lesson 6 - ELB and Autoscaling

Lesson 11 - Additional Key Services

Lesson 12 - SAA C02 Latest Services