(All course fees are in 

USD

)
Course Description
CompTIA Security+ is a global certification that validates foundational, vendor-neutral IT security knowledge and skills.
This CompTIA Security+ online training course will help you gain skills required to install and configure systems to secure applications, networks, and devices; perform threat analysis and respond with appropriate mitigation techniques; participate in risk mitigation activities; and operate with an awareness of applicable policies, and laws.
Offered in Partnership with
Simplilearn
Course Delivery
Self-paced online learning: 18 hours
Live virtual classroom training: 32 hours
Total online blended learning: 50 hours
Benefits
Total blended learning of 50 hours
Covers 6 domains required to become an IT security professional
Hands-on based learning
Skills to be Learned
Secure networks and applications
Perform threat analysis
Risk Management
Cryptography
Identity and Access Management
LAN
Secure Protocols
Vulnerability Scanning Assessment
Incident Response
Award upon Successful Completion
CompTIA Security+ "Certificate of Achievement" from Simplilearn
Awarding Organisation
Simplilearn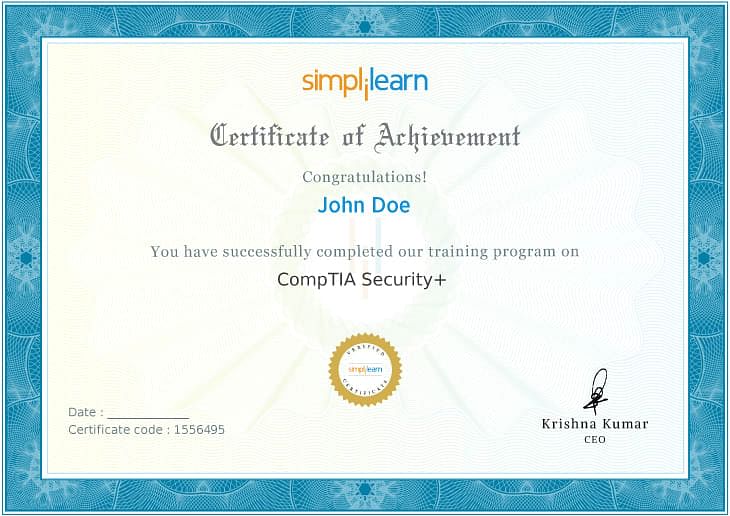 Learning Path
Candidates who want to be CompTIA Security+ SYO-501 certified must pass the SY0-501 exam. The exam consists of: Maximum of 90 questions Duration of the exam is 90 minutes The minimum passing score is 750 with differential pricing as per your region.
Please click the following link for more details regarding certification exam https://certification.comptia.org/certifications/security
Learning Outcomes
By the end of this online CompTIA Security+ training, you will be able to:
Comprehend Risk identification and mitigation
Provide operational, information, application and infrastructure level security
Secure the network to maintain availability, integrity, and confidentiality of critical information
Operate within a set of rules, policies, and regulations wherever applicable
Assessment
Quiz-end assessment
Course Completion Criteria
Finish the self-pace online learning
Complete 1 entire batch of live online virtual class
Who Should Enrol
The CompTIA Security+ course is ideal for professionals who are working in the roles of system administrators, network administrators, security administrators, and IT auditors.
Prerequisites
There are no specific prerequisites to take up this certification but it is recommended that individuals take the Network+ certification before taking the Security+ training and certification exam.
Course Overview
Lesson 01 – Risk Management
Lesson 02 – Cryptography
Lesson 03 – Identity and Access Management
Lesson 04 – Tools of the Trade
Lesson 05 – Securing Individual Systems
Lesson 06 – The Basic LAN
Lesson 07 – Beyond the Basic LAN
Lesson 08 – Secure Protocols
Lesson 09 – Testing Your Infrastructure
Lesson 10 – Dealing with Incidents
Access Period of Course
1 year from date of enrolment
Course Features
Students

1 student

Max Students

1000

Duration

50 hour

Skill level

beginner

Language

English

Re-take course

1000
Lesson 01 - Risk Management

Lesson 03 - Identity and Access Management

Lesson 04 - Tools of the Trade

Lesson 05 - Securing Individual Systems

Lesson 06 - The Basic LAN

Lesson 07 - Beyond the Basic LAN

Lesson 08 - Secure Protocols

Lesson 09 - Testing Your Infrastructure

Lesson 10 - Dealing with Incidents