Date Science Certification Traning – R Programming
(All course fees are in

USD

)
Course Description
The Data Science Certification with R programming training covers data exploration, data visualization, predictive analytics, and descriptive analytics techniques with the R language. You will learn about R packages, how to import and export data in R, data structures in R, various statistical concepts, cluster analysis, and forecasting.
Offered in Partnership with
Simplilearn
Course Delivery
Total applied learning: 64 hours
Benefits
64 hours of blended learning
10 real-life industry projects
Dedicated mentoring session from industry experts
Skills to be Learned
Business analytics
R programming and its packages
Data structures and data visualization
Apply functions and DPLYR function
Graphics in R for data visualization
Hypothesis testing
Apriori algorithm
Kmeans and DBSCAN clustering
Award upon Successful Completion
Data Science with R Language Certification Training "Certificate of Achievement" from Simplilearn
Awarding Organisation
Simplilearn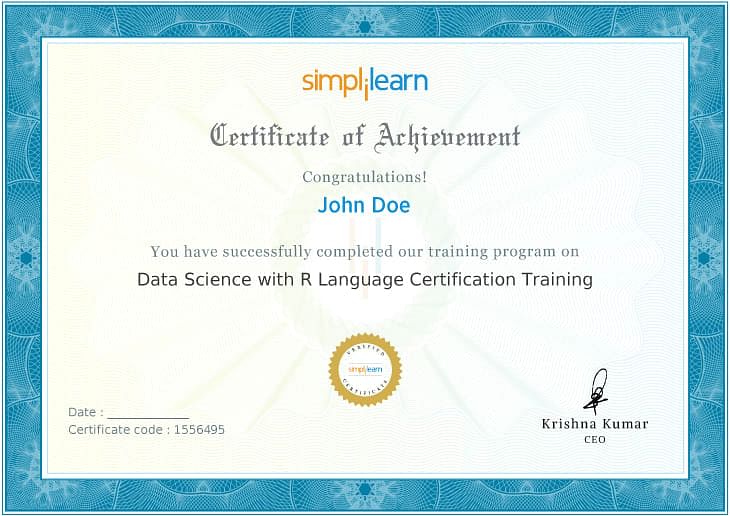 Learning Outcomes
Gain a foundational understanding of business analytics
Install R, RStudio, workspace setup, and learn about the various R packages
Master R programming and understand how various statements are executed in R
Gain an in-depth understanding of data structure used in R and learn to
import/export data in R
Define, understand and use the various apply functions and DPLYR functions
Understand and use the various graphics in R for data visualization
Gain a basic understanding of various statistical concepts
Understand and use the hypothesis testing method to drive business decisions
Understand and use linear and non-linear regression models, and classification
techniques for data analysis
Learn and use the various association rules with the Apriori algorithm
Learn and use clustering methods including k-means, DBSCAN, and hierarchical clustering
Assessments
Project 1 – Products rating prediction for Amazon
Help Amazon, a US-based e-commerce company, improve its recommendation engine by predicting ratings for the non-rated products and adding them to recommendations accordingly.
Project 2 – Demand Forecasting for Walmart
Predict accurate sales for 45 Walmart stores, considering the impact of promotional markdown events. Check if macroeconomic factors have an impact on sales.
Project 3 – Improving customer experience for Comcast
Provide Comcast, a US-based global telecom company, key recommendations to improve customer experience by identifying and improving problem areas that lower customer satisfaction.
Project 4 – Attrition Analysis for IBM
IBM, a leading US-based IT company, wants to identify the factors that influence employee attrition by building a logistics regression model that can help predict employee churn.
Who Should Enrol
There is an increasing demand for skilled data scientists across all industries, making this data science certification course well-suited for participants at all levels of experience. We recommend this data science training particularly for the following professionals:
IT professionals
Analytics professionals
Software developers
Prerequisites
There are no prerequisites for this Data Science Certification with R programming course. If you are a beginner in Data Science, this is one of the best courses to start with.
Course Overview
Lesson 0 – Course Introduction
Lesson 1 – Introduction to Business Analytics
Lesson 2 – Introduction to R Programming
Lesson 3 – Data Structures
Lesson 4 – Data Visualization
Lesson 5 – Statistics for Data Science-I
Lesson 6 – Statistics for Data Science-II
Lesson 7 – Regression Analysis
Lesson 8 – Classification
Lesson 9 – Clustering
Lesson 10 – Association
Course Advisor

Ronald van Loon
Top 10 Big Data and Data Science Influencer, Director – Adversitement
Named by Onalytica as one of the three most influential people in Big Data, Ronald is also an author of a number of leading Big Data and Data Science websites, including Datafloq, Data Science Central, and The Guardian. He also regularly speaks at renowned events.
Accessible Period of Course
1 year from date of enrolment
Customer reviews
Saad Madaha
Programmer Analyst III – Cardiology Information Systems at New York-Presbyterian Hospital
Level of granularity. Tutor knowledge. Class size. Tutor's confidence, subject knowledge, and high level of commitment to student understanding of the material. Tutor assisted students who had issues with SAS installation. Great Tutor-Student interaction.
Ashish Ranjan
Data Scientist at Accenture
Simplilearn is a good platform for starting the data science knowledge. The Data Science with R course has helped me get a promotion from a Business Analyst to Data Scientist.
Savish Dan
The course helped me to improve my skill set and gain the confidence to handle the role of an analyst. I had a break in my career due to immigration policies and had utilized the time to learn new skills, which helped me get a new job faster.
Yune Leou-On
Market Research and Monetization | Peanut Labs
I have taken Simplilearn's Data Science course & will now be taking their CAPM program. This has helped me professionally and academically, & I recommend them to anyone.
Course Features
Students

0 student

Max Students

1000

Duration

64 hour

Skill level

all

Language

English

Re-take course

1000
Lesson 0 - Course Introduction

Lesson 1 - Introduction to Business Analytics

Lesson 2 - Introduction to R Programming

Lesson 3 - Data Structures

Lesson 4 - Data Visualization

Lesson 5 - Statistics for Data Science-I

Lesson 6 - Statistics for Data Science-II

Lesson 7 - Regression Analysis

Lesson 8 - Classification