ITIL® 4 Strategist: Direct, Plan and Improve
(All course fees are in

USD

)
Course Description

You will learn how to use practical, strategic methods to plan and deliver continual improvement with the necessary agility from this ITIL 4 Strategist course. The ITIL Strategist certification training is relevant to both the ITIL Managing Professional and Strategic Leader streams, as planning and continual improvement are universal capabilities.
Offered in Partnership  with
Simplilearn
Course Delivery
Online self-paced learning: 7 hours
Benefits

In this ITIL® 4 Strategist: Direct, Plan, and Improve course you will learn the practical skills needed to create a "learning and improving" IT organization with a reliable and effective strategic direction.
This ITIL 4 Strategist training program will help you understand the impact of agile and lean work processes and how they can be leveraged to an organization's advantage.
This online course has 20 PDUs for self-paced learning.
Skills to be Learned
Operating Model
Strategy tactics operations
Governance compliance management
Risk management in DPI
Optimization of workflow
Value stream mapping
Award upon Successful Completion
ITIL® 4 Strategist: Direct, Plan and Improve "Certificate of Achievement" from Simplilearn
Awarding Organisation
Simplilearn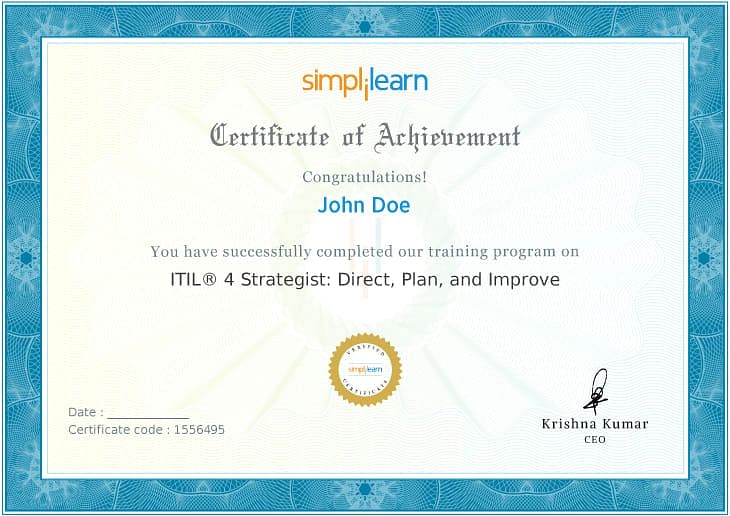 Learning Outcomes
When you complete this ITIL 4 Strategist: Direct, Plan, and Improve course, you will understand:
How to use practical, strategic methods to plan and deliver continual improvement with the necessary agility
The impact of agile and lean ways of working, and how they can be leveraged to an organization's advantage
Assessments
Course-end assessment
Course Completion Criteria
Complete the online self-learning course
Complete the course-end assessment with a minimum 80% score
Who Should Enrol
This ITIL Strategist course is aimed at IT leaders and managers at all organizational levels who are pursuing either the ITIL Managing Professional (MP) or ITIL Strategic Leader (SL) designation or those involved in shaping IT direction and strategy. It is also well-suited for the following professionals:
ITSM managers
ITSM practitioners managing IT-enabled products and services
Existing ITIL qualification holders wishing to expand their knowledge
Prerequisites
To be eligible for this ITIL Strategist training, applicants should have:
Passed the ITIL 4 Foundation examination AND
Attended an accredited training course for this module
Course Overview
Lesson 01 – Course Introduction

Lesson 02 – Key Concepts of DPI

Lesson 03 – Key Principles and Methods of Direction and Planning

Lesson 04 – Governance, Risk, and Compliance

Lesson 05 – Continual Improvement

Lesson 06 – Communication and Organizational Change Management

Lesson 07 – Measurement and Reporting

Lesson 08 – Value Streams and Practices
Accessible Period of Course
1 year from date of enrolment
Course Features
Students

0 student

Max Students

1000

Duration

7 hour

Skill level

all

Language

English

Re-take course

1000
Lesson 01 - Course Introduction

Lesson 02 - Key Concepts of DPI

Lesson 03 - Key Principles and Methods of Direction and Planning

Lesson 04 - Governance, Risk, and Compliance

Lesson 05 - Continual Improvement

Lesson 06 - Communication and Organizational Change Management

Lesson 07 - Measurement and Reporting

Lesson 08 - Value Streams and Practices