Salesforce Certification – Administrator & App Builder Online Course
(All course fees are in

USD

)
Course Description
Salesforce certification training course is designed to ensure that you learn and master the concepts of being a Salesforce Administrator and App Builder. In this Salesforce training, you will learn how to configure Salesforce to collect, analyze, and retrieve vital customer information and create applications using Salesforce Lightning.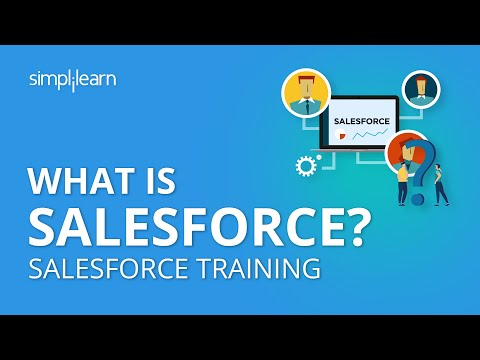 Offered in Collaboration with 
Simplilearn
Course Delivery
Online pre-recorded self-paced learning (30 hours)
Live virtual classroom training (48 hours) held at fixed schedule, as determined at our discretion
Total: 78 hours of blended learning
Benefits
78 hours of blended learning (30 hours online self-paced learning & 48 hours live online virtual classes)
Four industry projects with 28 case studies
30 hours of hands-on practice with Salesforce Lightning
1 year access to self-paced learning
Skills to be Learned
Salesforce overview
Sales and service cloud
Quote templates
Award Upon Successful Completion
Salesforce Platform App Builder "Certificate of Achievement" from Simplilearn
Awarding Organisation
Simplilearn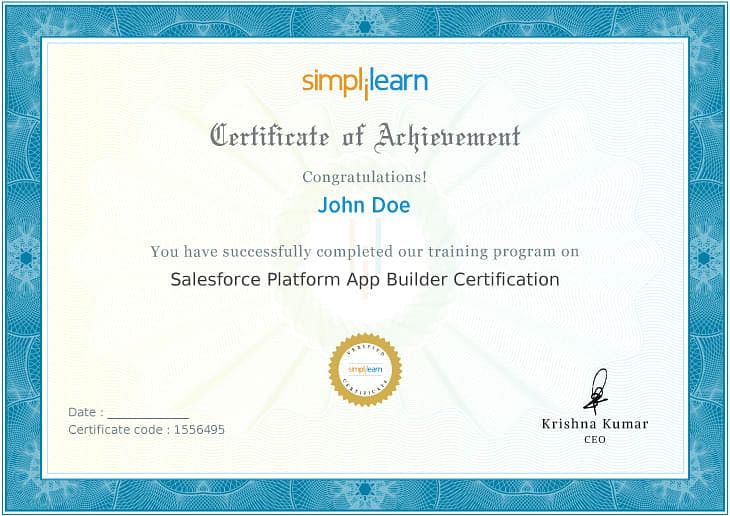 Course Completion Criteria
Online Self-Learning
Complete 85% of the course
Complete one simulation test with a minimum score of 60%
Online Classroom
Attend one complete batch.
Complete one project and simulation test with minimum score of 60%.
Certification Alignment
This course is aligned with and aims at preparing you for Salesforce
Administrator Exam and the Salesforce App Builder Exam of salesforce.com.
To become a Certified Salesforce Administrator and Developer, you must pass the Salesforce Administrator Exam and the Salesforce App Builder Exam. You can pass the exams by following these easy steps.
Step 1: Complete this Salesforce online training course
Step 2: Visit certification.salesforce.com and register to take both exams: Salesforce Administrator and  Salesforce App Builder
Step 3: Pass the Salesforce exams and earn your certification
Learning Path
To become a Certified Salesforce Administrator and Developer, you must pass the Salesforce Administrator Exam* and the Salesforce App Builder Exam of salesforce.com. This can be achieved by following these easy steps:
Step 1: Complete this Salesforce training course.
Step 2: Visit and register to take both exams: Salesforce Administrator and Salesforce App Builder
Step 3: Pass the Salesforce exams to become certified.
Remark:
*The Salesforce Administrator Exam is a 90-minute long exam comprising 60 single or multiple choice questions. Passing score is 65% , i.e. you must answer 39 questions correctly. Pls. refer to salesforce.com for details.
Learning Outcomes
By the end of this training course, you will be able to:
Gain an overview of Salesforce
Learn about Salesforce objects and how to create, rename, or modify objects
Create different field types and validation rules
Work on security controls
Create, deploy, and implement workflows
Manage data and reports
Create, configure, and manage dashboards
Understand chatter, application lifecycle, visual workflow, and schema builder
Install lightning components
Configure and manage Sales Cloud and Service Cloud
Master Salesforce's interface, help and training, app exchange, and other important functions
Deploy applications and manage changes to the Force.com platform
Develop new applications using the declarative interface and Force.com fundamentals
Configure the user interface
Assessments
Course-end Quizzes
Embedded within online pre-recorded course
Practice Projects
Project Management App by Ben McCarthy
Course-end Projects
Project 1: Implementing an End-to-End Recruitment Process
Track the jobs posted by recruiters as well as the respective candidate responses for a placement company in the United States
Project 2: Implementing a Student Performance Tracking System
Develop the workflow for an Australian college that wants to track the performance of students and automatically alert an instructor if the student is failing.
Project 3: Implementing Customer Service Process Management
Boost the services of a UK-based mobile company and make the system more efficient by tracking customers who have reported problems with their mobile phones.
Project 4: Capture Transactions Discounting and Track Business Entries
Use Salesforce to implement a process for capturing transactions and discounts, and for tracking previous business entries in Salesforce for a US-based mobile company.
Who Should Enrol
App builders
Developers
System administrators
Sales representatives
IT managers
Product managers
Prerequisites
There are no prerequisites for this Salesforce.com training course. But prior working experience as an administrator or a developer is beneficial.
Course Overview
Lesson 00 – Introduction to Salesforce
Lesson 01 – Salesforce Overview
Lesson 02 – Sales Cloud
Lesson 03 – Quote Templates
Lesson 04 – Service Cloud
Lesson 05 – Field Types
Lesson 06 – Salesforce Objects
Lesson 07 – Creating Buttons, Links, and Actions
Lesson 8 – Visual Workflow, Process Builder, and Schema Builder
Lesson – 9 Validation Rules
Lesson 10 – Workflow Rules
Lesson 11 – Lightning Components
Lesson 12 – Role Hierarchy
Lesson 13 – Security Controls
Lesson 14 – Profiles
Lesson 15  – Chatter
Lesson 16 – Reports
Lesson 17  – Dashboards
Lesson 18 – Data Management
Lesson 19 – AppExchange
Lesson 20 – Communities
Lesson 21 – Change Sets and Deployment
Lesson 22 – User Interface
Lesson 23 – Application Lifecycles
Lesson 24 – Help and Training
Live Project
Access Period of Course
1 year from enrolment
Customer Reviews
Rob Dolber
Supervisory Analyst at Bank of America
The interactive WebEx learning session tracking the Salesforce study guide has provided a well-defined roadmap for learning the certification subject-matter. Frequent, repetitive review of key subject-matter has been useful to burn key concepts into memory. Interaction with other classmates has been enjoyable.
Moulika Seepana
Consultant at Deloitte
The trainer explained all concepts very well. The entire course content was explained in detail. The trainer has a very strong grasp on the technical knowledge.
James McCune
Implementation Coordinator – Uprise EHR @ VisionWeb
Amazing training! I am very happy with the format of classes that includes quizzes, lectures, breaks, and Q & A. The assignments are also good. All our doubts are getting cleared while keeping up with the Agenda. Kudos to Simplilearn.
Karen Johnson
Research Analyst at 3D Communications
The classes were really interactive, which is an effective way to learn.
Tyler Roehmholdt
Senior Marketing Technologist
Wonderful presentation format, love the examples and pace at which we are being taught.
Ragunath Gunasekaran
Team lead at NTT DATA
I am able to grasp the concepts and the practical training in real time is very good.
Jordan Ryan
Application Systems Analyst at Tickets.com
I like being able to collaborate with other users under the guidance of an experienced trainer.
Rama Subrahmanyam
Senior Consultant at Thought Solutions Limited
I really appreciate the training approach and two-way communication, Salesforce concepts were explained nicely.
Mircea Iliescu
Co-Founder/Supply Chain Manager at BrandShout SRL
I really appreciate that I can receive the training in well-spoken English…Very clear and easy to understand! The trainer has good training skills, with a lot of patience towards us and our questions. And we end up learning by doing! The training clarified most of the topics that were not 100% clear to me. Keep up the good work!
Riju Mahadevan
Stock Controller at MEYDAN
This course is exactly like a direct classroom coaching and that too in a very simplified manner. Concepts were explained well, giving clarity to freshers like me who has zero knowledge of Salesforce. Really appreciate Simplilearn for giving us the opportunity to attend this training.
Olga Barrett
Career Advisor @ CV Wizard of OZ
Training on SFAD (Salesforce AdMinistrator & Developer) is very well prepared. Demos are really helpful in strengthening the understanding of concepts. All doubts are clarified with good real examples. I've enjoyed the class! Thanks a lot! Also, I appreciate get certified team for the recordings given in time.
Damo Achaiyan
Obibiee Consultant
The training is becoming more and more engaging and interactive. I have to convey that you have an excellent choice of tutors. Though I have prior experience in the field, I am learning a lot more from this course!
Tracy Simacek
Account Advisor at Lands' End
I am enjoying the class and learning many different areas regarding the admin area. I'm currently an end user where I work and looking to be an admin to expand my career.
Amrita Ramesh Mukhi
I thank my trainer, Samir Whig, for coaching us so efficiently and answering our doubts patiently. Your teaching and guidance will be beneficial for my future career aspirations. Thank you.
Course Features
Students

0 student

Max Students

1000

Duration

78 hour

Skill level

all

Language

English

Re-take course

1000
Lesson 00 - Introduction to Salesforce

Lesson 01 - Salesforce Overview

Lesson 03 - Quote Templates

Lesson 04 - Service Cloud

Lesson 06 - Salesforce Objects

Lesson 07 - Creating Buttons, Links and Actions

Lesson 08 - Visual Worflow, Proces Builder, and Schema Builder

Lesson 09 - Validation Rules

Lesson 10 - Workflow Rules

Lesson 11 - Lightning Components

Lesson 12 - Role Hierarchy

Lesson 13 - Security Controls

Lesson 18 - Data Management

Lesson 21 - Change Sets and Deployment

Lesson 22 - User Interface

Lesson 23 - Application Lifecycles

Lesson 24 - Help and Training